SERGEANT BENJAMIN KWANG HYUN CHU

ID 3959, 107 ACADEMY

SDPD 07/11/1986 - 06/30/1992

08/01/1954 - 06/30/1992

Sergeant Benjamin K. Chu was a member of the Republic of South Korea Marine Corps before immigrating to the United States. He was a certified scuba diving instructor prior to joining the police department in 1986 when he became the first Korean-American to join the San Diego Police Department.
He was also the first to attain the rank of sergeant on August 30, 1991.

He was highly regarded in the Korean community, providing valuable education on the workings of the American legal system. Besides providing services to the Korean community, Sergeant Chu trained many police officer recruits as a Field Training Officer prior to his promotion.

During his six years, Sergeant Chu worked in the Eastern and Northern Division of the San Diego Police Department and the Watch Commander's office.
Sergeant Chu met an untimely death on Tuesday, June 30, 1992. He is survived by his wife, Michelle and two children, six year old, Minkyu and five month old, Haeun.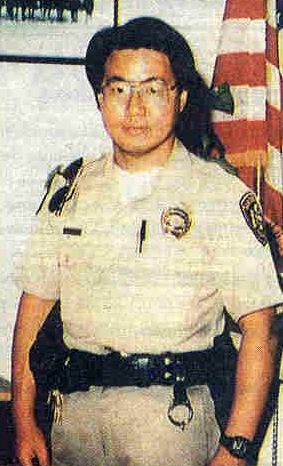 Information is provided as a courtesy. Additional information may be available if research is conducted. Research is done at a cost of $25 per hour with no assurances of the outcome. For additional information please contact us.