DETECTIVE SERGEANT WILLIAM "BERT" RITCHEY

BADGE 77 & 189

SDPD 05/25/1935 - 05/29/1964

05/18/1908 - 1995



Bert Ritchey was one of the greatest running backs ever to come out of San Diego, although he is not as famous as Lincoln High's Marcus Allen or Helix High's Reggie Bush.  Allen and Bush, like Ritchey, are black.  The difference is Allen played in the 1980's, Bush in the 2000's, and Ritchey played in the 1920's.
Ritchey was born in a house at the corner of Front and F street in 1908.  Things were different back then.  There was a lot of racial prejudice in America, and San Diego was no exception.  San Diego's Archie Moore, the light heavy­weight boxing champion of the world, could not move into one of the nicer sections of town, so he simply remodeled.  The large, brick structure at the intersection of 94 and 805 still stands as a silent witness to San Diego's past at the beginning of the 21st century.
Ritchey fared worse than Moore, because at least Moore was given a chance.  Ritchey, who scored 15 touchdowns for San Diego High School in 1925, and 20 in 1926, was heavily recruited by top colleges, including coach Howard Jones of USC.  After convincing Ritchey to join the team, Jones sat him down for most of his four years at USC.
Ritchey asked his coach about why he was riding the bench.  The coach replied he wasn't "interested in black players."  Ritchey asked, "Well then, what am I doing here?"  James replied: "Well, since we got you here, we know you can't hurt us by going somewhere else."  A team manager once tried to bribe Ritchey not to go to an alumni dinner.  Despite such treatment and as a testament to his character, on a Thanksgiving during the Depression, Ritchey arranged and played in an all-star charity game to raise funds for the unemployed in Los Angeles (LA Times 11/18/31, 11/25/31).

Ritchey left USC and did a brief stint with the San Diego County Sheriff's Department around 1933. 

He joined the San Diego Police Department in 1935.  When World War II broke out, Ritchey was drafted.  He later said he was afraid, not about going to war, but having to go to Texas.  "All the groups [of draftees] were being sent to Texas ... I had heard of problems [of racial discrimination] there and was afraid if I did have to go, I would not make it back."  As it turned out, Ritchey did not go, because the city used its authority to exempt him and other police officers from service.

Ritchey served in many different capacities while at the police department.  The most significant were the years spent as a homicide detective and his involvement in setting up the investigative lab.  While serving full time as a police officer, Ritchey obtained a law degree from Cal Western in 1962. 

Ritchey retired from the San Diego Police Department after 28 years of service on Friday, May 29th, 1964.  The following Monday, a letter arrived telling him he had passed the bar exam.  The veteran homicide detective was now a newly minted lawyer.  Ritchey joined the law firm of Alpha L. Montgomery Sr. , who later became the second black person appointed to the Superior Court (the first was Earl B. Gilliam).
The Montgomery firm was well known for its involvement in cases involving civil rights.  Bert Ritchey always said he looked forward to a day when America would be a place of racial equality and equal justice, working throughout his lifetime to achieve this goal.

Had he been born in a later era it may well be we would remember him as a great football running back.  As it turned out, racial prejudice snuffed a promising career in sports.  This prejudice, however, unintentionally funneled Ritchey's talents into a career as a "Drum Major for Justice" –  to coin Martin Luther King's phrase –  on the streets of San Diego.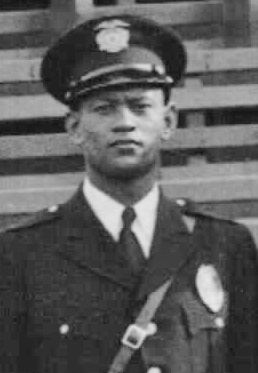 Basic information is provided as a courtesy and is obtained from a variety of sources including public data, museum files and or other mediums.  While the San Diego Police Historical Association strives for accuracy, there can be issues beyond our control which renders us unable to attest to the veracity of what is presented. More specific information may be available if research is conducted.  Research is done at a cost of $50 per hour with no assurances of the outcome.  For additional information please contact us.