AUXILLARY POLICEMAN CHARLES E. MURRAY

EAST SAN DIEGO CITY CONSTABLE 1916- 1921

SDPD AUXILLARY 1944

06/08/1885 - 07/20/1965

By Gary E. Mitrovich

Charles Edmund Murray was born on June 8, 1885 in Ohio.  By 1913, he was living in the newly incorporated City of East San Diego, where he remained for the rest of his life.

In 1914, Murray was an unsuccessful candidate for City Marshal. He did, however, get a job as the ESD City Treasurer.

In 1916, Murray was appointed as a constable to Judge Andrew Schilling of the Justice Court, serving as an arm of the court until 1918, when the justice courts were abolished in San Diego County. As a constable, Murray performed duties of the court, including issuing subpoenas and warrants, but also assisted the local city marshal and his deputies with the enforcement of city and state laws in ESD. He often went by "C.E. Murray," which earned him the nickname of "Catch-Em Murray" within the city, as he was apparently proficient in bringing in law offenders.

Murray was also called "Bunny," at least by the newspapers of the day, a reference to the rabbit ranch he operated in the ESD city limits.

Murray filled in for three months as the city's night watchman in 1921. He was very involved on many fronts in the City of ESD, including selling real estate, operating a movie theater, and founding the Progress and Prosperity Club.

By 1944, Murray served on the San Diego Police Department's Auxiliary Police Squad, Pacific Beach, under retired lieutenant Henry Churchman, who was "captain" of the squad.

On July 20, 1965, Murray died of a heart attack at his home on 46th Street. He was 80 years of age. His obituary said he was a retired sheriff's deputy and had lived in San Diego County for 52 years.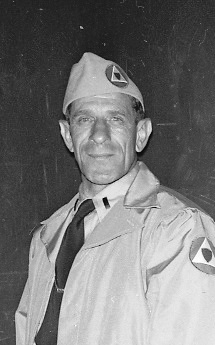 Information is provided as a courtesy. Additional information may be available if research is conducted. Research is done at a cost of $25 per hour with no assurances of the outcome. For additional information please contact us.