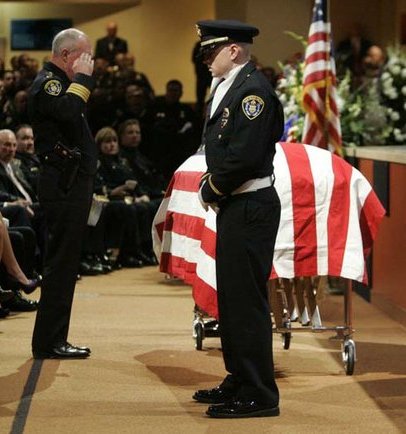 Officer Chris Wilson was shot and killed assisting officers from the County Probation Department and United States Marshals Service conduct a compliance check at an apartment located at 479 South Meadowbrook Drive.

Probation officers and deputy marshals had initially gone to the location and knocked on the apartment door. A man opened it and suddenly slammed it shut when he saw the officers, who then kicked the door in and arrested the subject. The officers then called the San Diego Police Department for assistance after observing another occupant run into a back bedroom.

Officer Wilson and other officers, including a canine, responded to the scene around 10:45 p.m. and began searching the apartment.

When it was determined the suspect was hiding in one of the bedrooms, officers kicked down the door and attempted to make entry. The suspect immediately opened fire striking Officer Wilson in the head. Monty the canine was also wounded.

Despite being under fire, two other officers were able to pull him from the apartment. Two other officers, who were in a bedroom down the hall from the shooter and were unable to get out without exposing themselves to additional gunfire, were evacuated from a window via a fire department ladder.

Officer Wilson was transported to Scripps Memorial Hospital where he passed away a short time later.

Meanwhile, SWAT officers were being deployed as the scene was quickly locked down. With containment in place, SWAT spent the next seven hours trying to get the apartment occupants out. A man and woman eventually came out about 4 a.m.

SWAT officers eventually made a dynamic entry and began a methodical search of the apartment. Shortly after 6:45 a.m., they found the bodies of thirty year old Holim Lee and twenty seven year old Lucky Xayasene in the bedroom next to several guns. The coroner later ruled their death murder suicide.

The apartment complex in which Officer Wilson was killed is located directly across the street from where Officer Ronald W. Davis was murdered in 1991.

Officer Wilson was fifty years old. A field training officer and member of SWAT, he had served the San Diego Police Department for 17 years and was assigned to the Southeastern Division. Officer Wilson's trainee, a recent academy graduate, was not physically injured in the incident.

Officer Wilson's funeral was held on November 4, 2010, at the Rock Church.

A Field Training Officer and former member of SWAT, Officer Wilson was 50 years old and a seventeen year veteran of the San Diego Police Department. His entire career had been spent as a patrol officer in the Southeastern Division. 

As with Ronald W. Davis, the last San Diego Police Officer to  shot and killed in the line of duty, Officer Wilson was the recipient to his academy's "Jerry Lee Hartless" award.
Officer Wilson is by Tracy Wilson and their two children, Conner and Kaylee.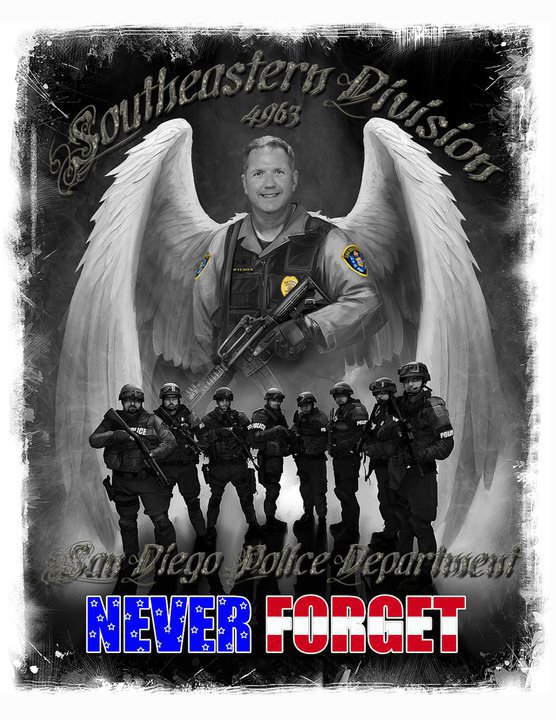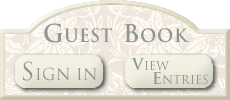 POST A REFLECTION FOR CHRIS


OFFICER CHRISTOPHER A. WILSON

BADGE 3046, ID 4963

E.O.W. 10/28/2010