OFFICER EDWARD DIECKMANN JR.

BADGE 288

SDPD 12/04/1945 - 08/31/1954

02/20/1920 - 10/12/1994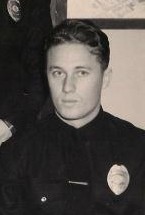 Edward A. Dieckmann Jr., passed away October 12, 1994, after a 7-month battle with congestive heart failure.

Ed was the son of Ed Dieckmann, Sr., well-known former Chief of Homicide with the San Diego Police Department.
Born in 1920, Ed, Jr. attended Hoover High School and much later graduated from SDSU with "Distinction in English." He was a member of Gamma Psi.

Ed served with "Swing's Angels" of the 11th Airborne Division during WWII and was among the first troops to land in Japan.
After WWII, Ed followed in his father's footsteps, joining the San Diego Police Dept.

After obtaining his B.A. degree from SDSU, he became a Parole Agent with the California Department of Corrections, working in Southeastern Los Angeles during the turmoil of the'60s and the Watts Riot. He served as Training Officer at the Parole Academy and, with Judge Emerson, headed the Downey Project, an employment program for parolees.

At an early age, Ed showed a talent for writing, and one of his very first articles appeared in the Highway Patrol Magazine. He had a keen interest in history and contributed articles to history journals and popular magazines, including Esquire, True, Coronet, American History Illustrated, and Civil War Times. He was a contributing edit or of the American Mercury and appears in Contemporary Authors. Ed was the author of two books, "The Secret of Jonestown: The Reason Why," and "Volcano Mondo," a re-creation of the 1902 eruption of the volcano Mont Pelee onto St. Pierre, Martinique. The book shows how both political parties and the chief newspaper there conspired to keep the people on the island to vote, even though it was obvious that the volcano would erupt. The book also shows that the nuclear energy in the eruption caused the same symptoms and damage as those later observed at Hiroshima and Nagasaki.

Ed was a member of a professional writers' group in San Diego known as "The Padres." He was also an honorary member of the Mystery Writers of America.

Mr. Dieckmann is survived by the former Charlotte Peltcher, his wife of 51 years, his son Chris, a senior investigator with DMV, and his daughter-in-law Monika, a vice president with the Bank of America.