Deceased Name: Joseph James Costa, 60 ex-policeman, Actors Theatre producer 

By the time Joseph James Costa joined his wife in co-producing stage plays, he had already experienced his share of real-life drama as a police officer and Vietnam veteran.

Beginning in the mid-1980s, he contributed to 10 stage productions while serving as chief financial officer of the San Diego Actors Theatre, providing the behind-the-scenes support that resulted in a Star Award from the San Diego Performing Arts League.

Mr. Costa, a retired lieutenant in the San Diego Police Department, died of cancer June 1 at Villa Monte Vista in Poway.  He was 60.

In July 1982 he married Patricia Elmore, an actress and director who introduced him to the world of theater and founded the San Diego Actors Theatre in 1985.

Their 1987 production of "The Miss Firecracker Contest," staged at the Old Bowery Theater, received awards from the San Diego Critics Circle.

While the show was in production at Fifth Avenue and Elm Street, the lighting designer heard a gunshot at the New Palace Hotel and alerted Mr. Costa.  With his law enforcement instincts kicking in, he chased an armed suspect through Balboa Park and helped on-duty officers in apprehending him at Marston Point.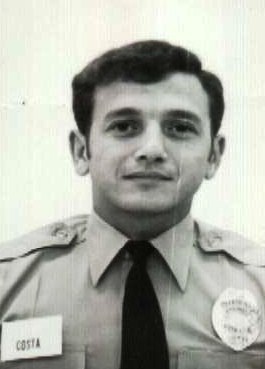 LIEUTENANT JOSEPH J. COSTA

BADGE 374, ID 1200

SDPD 04/30/1971 - 1993

11/27/1941 - 06/01/2002

Mr. Costa retired from the Police Department after 22 years in 1993 and worked in private industry as a personnel director for a law firm and a human resource administrator for a restaurant chain and a telemarketing firm.  In October 1999 he returned to law enforcement with the City Schools Police Department as a campus officer at Crawford High School.

Evenings and weekends were devoted to the Actors Theatre.

"You would see him dressed in a tuxedo the night of the play, doing everything from finding seats for people to serving refreshments at intermission," said San Diego police Capt. Greg Clark, a longtime friend and former colleague.

In 1994, Mr. Costa was recognized by the San Diego Performing Arts League for his dedication to the San Diego Actors Theatre, which included building sets, raising funds, working at the box office and selling concessions.

Although he had no experience in theater before meeting his wife, he always enjoyed singing, especially Frank Sinatra tunes, as his police buddies discovered.  Once, a song he tape-recorded was blasted over the intercom in the police chief's office, apparently as a prank.
"Somebody had turned the volume way up, and Chief (Bill) Kolender couldn't miss hearing it," Clark said.   The chief's response: "Who is that terrible singer?"

Mr. Costa, a Clairemont resident in recent years, was born in New York City.  He lived in an Italian neighborhood in Queens before moving with his family to West Islip, N.Y., a small town on the eastern end of Long Island.

He studied architecture at the Pratt Institute in Brooklyn as a young man, then joined the Navy.  As a flight officer, he served during the Vietnam War on the aircraft carriers Hancock and Kitty Hawk.

During six years in the Navy, he rose to lieutenant and flew more than 250 combat support missions.

After joining the San Diego Police Department in 1971, he worked at various times in patrol, training, background investigations, a secondary schools task force, internal affairs, traffic and the equal employment office.

Popular among fellow officers for his sense of humor, Mr. Costa organized a pumpkin-carving contest one Halloween while working in internal affairs.  "He was a little disappointed that he didn't win, so we all joked with him about that," Clark said.

Mr. Costa was diagnosed with cancer in March 2000. He attended his last San Diego Actors Theatre production May 6, a staged reading of "Betty's Summer Vacation," at Sixth and Pennsylvania avenues in Hillcrest.

Survivors include his wife, Patricia Elmore Costa; sons, Matthew, a sophomore at University of San Diego High School, and Nicholas, a seventh-grader at St. Columba School; his mother, Mary Costa of Los Angeles; and a sister, Josephine Cox of Los Angeles.