* JAMES FINLEY WAS THE FIRST POLICE AGENT IN SDPD HISTORY

Retired San Diego police officer James E. Finley died Saturday after a long battle with cancer.  He was 51.

Finley, a Dallas native and son of J.W. and Geneva Reaves Finley, had both military and civilian careers and is fondly remembered by friends and relatives for his friendly, good-natured approach to life.

Finley worked for 20 years with the San Diego Police Department before retiring in July 1992.  He also spent 22 years in the Navy, including 14 years in the reserves, before retiring in 1986.

During his eight years of active Navy duty, Finley served aboard the carrier Kitty Hawk and the destroyer King.

Finley is survived by two sons, Scott and Michael of San Diego, and seven relatives who live in Dallas: his mother, Geneva Finley; two sisters, Joan Finley and Nancy Powell; brother-in-law, Jon Powell; and two nieces and a nephew, Kelly, Joanna and Jon Thomas Powell. Finley's father, J.W. Finley, died a year ago. He also was a retired policeman, having spent 30 years with the Dallas Police Department.



AGENT JAMES E. FINLEY

BADGE 1033, ID 1313

SDPD 03/17/1972 - 1992

09/21/1941 - 06/19/1993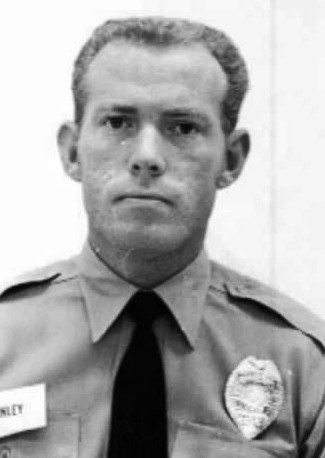 Information is provided as a courtesy. Additional information may be available if research is conducted. Research is done at a cost of $25 per hour with no assurances of the outcome. For additional information please contact us.