John Paul Murray Jr. passed away March 31, 2008.

He was born in Fall River, Mass., June 16, 1942, and spent his youth growing up in San Diego, Brooklyn and Puerto Rico.

He served in the U.S. Navy from 1961 to 1965.

John served on the San Diego Police Department from 1966 to 1981, after receiving an honorable discharge from the Navy. He served as a detective on the SDPD for many years, and received laudable comments for his amazing undercover career.


DETECTIVE JOHN P. MURRAY JR.

BADGE 638, ID 1673

SDPD 1966 - 1981

06/16/1942 - 03/31/2008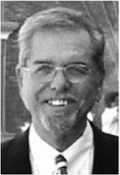 John was also a director for the Police Officers Association of California.

After leaving the San Diego Police Department, John became an investigator for the Nevada Gaming Control Board (GCB), and worked for many years as a key investigator there. Upon leaving the GCB, John began an equally impressive career as a corporate security investigator, and quickly progressed to chief of security for the Sands Hotel/Casino until its closure, and ended his career as chief of corporate security for IGT.

John was known by all as a kind man with a good heart. He will be sorely missed.

John was preceded in death by his father, John Murray Sr.; his mother, Marie Schuneman; and his stepfather, Joseph Schuneman. He is survived by his wife, Betty Murray; his son, John Paul Murray III (Stephanie); granddaughters, Jessica and Sophia Murray; his son, Wayne Murray (Lisa); granddaughters, Ashley, Lauren and Kalyn Murray; his daughter, Kim Trevethan (Jim); grandsons, Zachary and Jake Trevethan; and his brothers, Leo and Mike Murray.

A memorial service will be at 6 p.m. Saturday, April 5, at Palm Mortuary, 7600 S. Eastern Ave. Please make donations, in lieu of flowers, to the ALS Society of Las Vegas.