OFFICER JULIE Y.  CROSS (HANIBAL)

ID 2234

SDPD 02/28/1977 - 04/20/1979 (87th Academy)

02/17/1954 - 06/04/1980

United States Secret Service Agent Julie Cross was shot and killed during a robbery attempt while she and her partner were working undercover.

The assailants were unrelated to the investigation.

Her killer was captured 12 years later, convicted of murder and sentenced to death.

Special Agent Cross had been in law enforcement for two years, with the San Diego Police Department, prior to being hired by the U.S Secret Service in San Diego.  She had just been assigned to the Los Angeles Field Office when the incident occurred.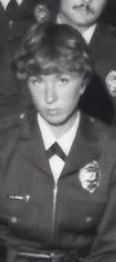 Information is provided as a courtesy. Additional information may be available if research is conducted. Research is done at a cost of $25 per hour with no assurances of the outcome. For additional information please contact us.