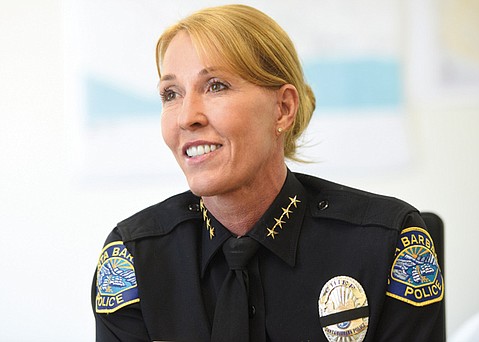 Santa Barbara Selects New Police Chief

Lori Luhnow Comes from San Diego and

Will Be City's First Female Top Cop

Tuesday, June 14, 2016

by TYLER HAYDEN

Lori Luhnow, a captain and 27-year veteran of the San Diego Police Department, has been named Santa Barbara's new police chief, making her the city's first female top cop.  Luhnow beat 90 other candidates from across the country and comes with a resume as resplendent as the compliments that accompanied her selection.  "We want to congratulate Captain Lori Luhnow on this prestigious appointment," said a spokesperson for the San Diego police officer's union. "San Diego's loss is Santa Barbara's gain."

The final choice was made by Santa Barbara City Administrator Paul Casey, who solicited feedback from advisory panels made of public safety officials, San Luis Obispo's city manager, Palo Alto's police chief, a judge, and a professor, among others.

The consensus was that Luhnow's experience with recruiting and mentoring officers as head of San Diego's Regional Police Academy would help with the SBPD's chronic staffing shortages; her affection for community policing would fit well with Santa Barbara's sensibilities; and her leadership skills would command respect from a department transitioning from a 15-year term under former Chief Cam Sanchez, who retired in February.

"I'm confident that Mr. Casey selected the best person for the job, regardless of gender," said interim chief John Crombach. "I know the city wanted someone with a contemporary policing philosophy [and] inclusive leadership style."  Mayor Helene Schneider, also praising Luhnow's breadth of experience, thanked Crombach, who will step aside next month, "for making this transition period as smooth as possible."

Luhnow, 50, joined the San Diego force as an officer and rose through the ranks, heading the department's traffic, patrol, investigations, and special operations divisions.  Casey noted her involvement in a program created to respond to noise complaints at a nearby university, as well as time spent at tourist-friendly Ocean Beach. Luhnow also directed operations for the city's Family Justice Center and oversaw its Domestic Violence Unit.  She received a Bachelor's degree in Communication from UC San Diego (where she played on three National Championship volleyball teams), a Master's degree in Organizational Management from the University of Phoenix, and graduated from the FBI National Academy.

"I am proud and honored to become a part of the Santa Barbara Police Department and community," said Luhnow in a prepared statement. "Santa Barbara has much to offer with a long history of being one of the safest coastal communities in America.  I look forward to working with our community members, city leadership, and police department personnel to ensure Santa Barbara remains a safe and thriving city."

Luhnow will oversee a staff of 200 sworn and civilian members as well as a budget of $42 million. She begins July 18.