OFFICER ROBERT ADAUTO Jr.

BADGE 266, ID 3710

SDPD 05/23/1985 - 06/03/2006

07/06/1951 - 11/19/2019

Robert Adauto Jr. passed away in Temecula CA on November 19, 2019. He was born in El Paso, TX on July 6, 1951. Robert (Bobby) graduated from Cathedral High School in 1969. He joined the United States Navy and served five years. Robert then joined the Police Department in Tucson, AZ. He later moved to CA where he was a police officer for the San Diego Police Department, where he later retired from.

Bobby enjoyed making Native American crafts. He is survived by his eight children: Robert III (Katie), Jennifer Renee, Joshua Michael, Robyn Ashley Deveny (Cody), Elliott David, Rachel Deborah, Bridget Jacqueline and Tiffany Marie. He has five grandchildren: David James, Haley Anne, Dominic Elias, Natalie Rae, and Valentina Alicia. He is also survived by his parents, Robert and Mary Adauto, and his siblings: Jeanette Miller (Joe), Patricia Smyth, Renee Tellez (Joe), and David. He is also survived by many aunts, uncles, cousins, nephews and nieces.

Bobby is now dancing, laughing, and loving in heaven. He was cared for by his son Robert and daughter Jennifer in his last months of life.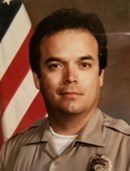 Information is provided as a courtesy. Additional information may be available if research is conducted. Research is done at a cost of $25 per hour with no assurances of the outcome. For additional information please contact us.