RESERVE OFFICER RONNIE WIEBUSCH

09/13/1941 - 01/03/2013

Ronnie Wiebusch was born on September 13, 1941.  He died on January 3, 2013.

Ronnie was an electrical contractor who established his own business in San Diego.  He was a reserve officer on both the San Diego Police Dept. and the San Diego Sheriffs Dept.

He was also active in the volunteer programs and the Citizen's Police Academy of Grapevine, Texas and was very proud of all of these.

Ron and his wife, Jean, moved to Oregon where he was a Deputy Sheriff in the Jackson County Sheriffs Dept.  They later moved to Texas where Ronnie was a State Electrical Inspector in the Criminal Justice Division.

He then retired and they returned to San Diego in 2008.  Ronnie was a marksman, a golfer and a fisherman. If he could do all three in one day, he was a very happy man.

Ronnie is survived by his wife of 24 years, Jean, of San Diego; his constant companion, Rosie; and his daughter, Heidi; grand-daughters, Tyler, Morgan and Paige, of Fort Worth, Texas; and his sister, Lydia, of San Diego.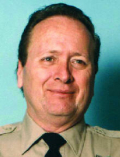 A celebration of Ron's life will be held on January 24 at 3 p.m. at the El Torito Restaurant, 5204 Baltimore Drive, La Mesa, CA, 91941. In lieu of flowers, please send donation to the San Diego Humane Society.