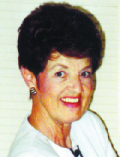 A memorial mass is scheduled for 10 a.m. Friday, January 14th, at Santa Sophia Catholic Church, Spring Valley. Entombment at Fort Rosecrans National Cemetery will follow at a later date.

In lieu of flowers, the family requests donations in her memory be made to St. Jude Children's Research Hospital (stjude.org/tribute).

ROSS, SUSAN MARY Dec. 23, 1931 to Jan. 1, 2011 Susan Mary Ross passed away at home on New Year's Day.

Born in Biloxi, MS, Susan married her devoted husband of 58 years, George E. Ross, and together they relocated to San Diego in 1953.

She retired from the San Diego Police Department with over 20 years as a Communication's Dispatcher.

Susan is survived by her husband George, daughters Victoria and Elizabeth (Vernon P. Rye III) and grandson, Randall James Rye, all of San Diego.


POLICE DISPATCHER SUSAN M. ROSS

ID 8343

SDPD 06/03/1970 - 05/25/1991

12/23/1931 - 01/01/2011