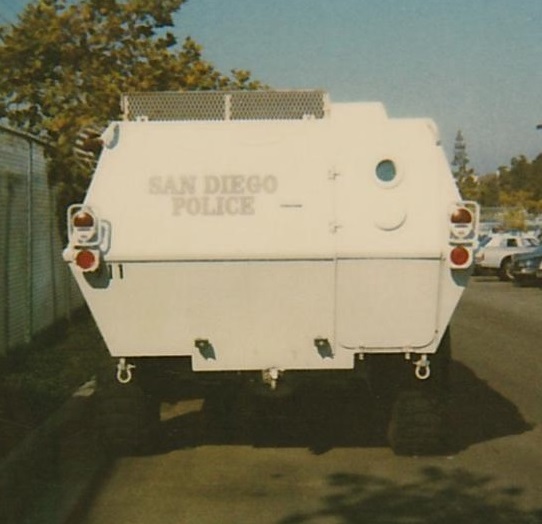 In the aftermath of the July 1984, McDonald's Massacre, the San Diego Police Department sought an armored vehicle that could be driven into the line of fire and used as a rescue platform.
The heavily armored Victim Rescue Vehicle (VRV) was obtained in September 1985, from a company in Florida. Purchased by banker Thomas Sefton for $150,000, the donation vehicle was originally camouflage in color, then painted white with SDPD. The vehicle was massive standing more than 7 feet tall and 8 feet wide. At 20 feet long the vehicle tipped the scales at 10 tons.

Lieutenant  Dan Berglund, the Commanding Officer of S.W.A.T. at the time, placed Sergeant Reggie Frank in charge of the vehicle.

A factor rep from Florida had accompanied the VRV to San Diego then trained Sergeant Frank in the driving and basic maintenance of the vehicle.  Sergeant Frank then trained additional VRV drivers.

In the few years SDPD operated the vehicle, - it was used exclusively for SWAT and high risk warrant incidents - the diesel/hydraulic operated giant proved to be difficult to operate and largely impracticle. The heavy armor and limited manuverability of the VRV proved to be an issue on December 5, 1987 during a multi agency SWAT incident in Escondido. A crazed gunman, who had earlier murdered San Diego County Sheriff's Deputy Lonnie Brewer, bolted from the home he had been barricaded in and ran past the VRV.
The VRV was eventually sold to a Hollywood movie company. A scale model of the VRV now resides in the San Diego Police Museum.