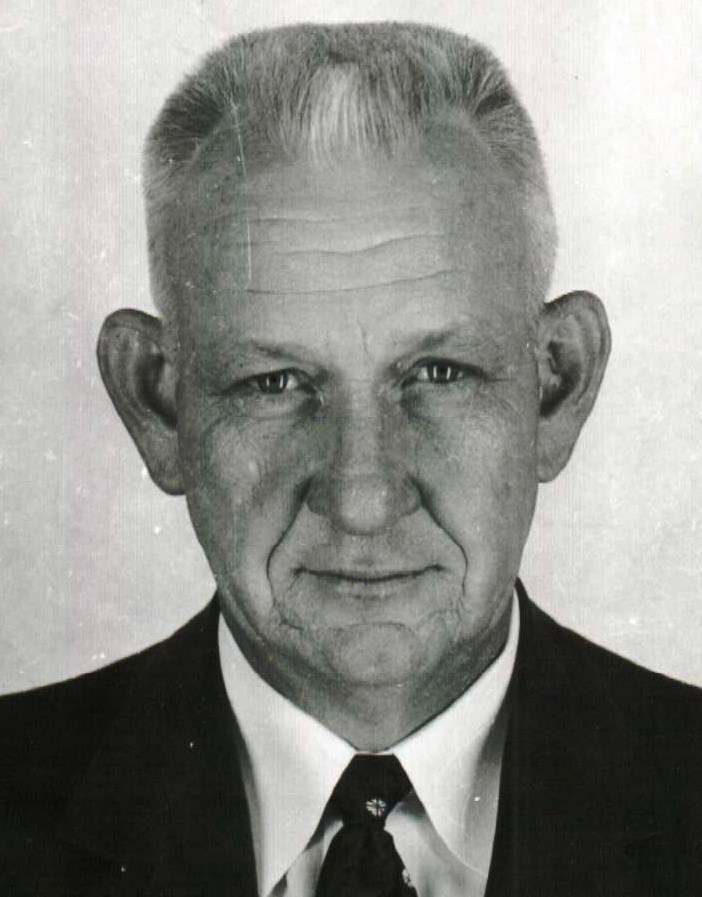 DEPUTY CHIEF D. KENNETH BLUCHER

BADGE 274

SDPD 06//03/1937 - 01/22/1970

03/14/1914 - 01/22/2001


Deceased Name: Donald Blucher a colorful career with S.D. police 

Donald Kenneth Blucher began his 32-year career in the San Diego Police Department by patrolling some of the same streets he had navigated as a bus and streetcar driver in the mid-1930s.

By the time he retired as assistant chief in January 1970, he had served under five chiefs and investigated one of the most notable kidnapping cases in San Diego history.

Mr. Blucher, a longtime Kensington resident, died of complications from Alzheimer's disease Monday at Stanford Court Nursing Center in Santee.  He was 86.

As chief of detectives in 1960, Mr. Blucher headed the investigation into the kidnapping of Tony Alessio, the youngest of seven brothers in a prominent San Diego family.
Alessio was returned unharmed a day later after older brother John Alessio, a former hotel owner and Caliente Racetrack director, paid a $200,000 ransom.  According to news reports, all but $17,000 of the ransom was recovered. Three of the five suspects in the abduction were convicted.
Two years later, Mr. Blucher was promoted to deputy chief in charge of the services section, succeeding Wesley Sharp, who replaced A.E. Jansen as chief.
Born in Ford, Kan., Mr. Blucher came with his family on a vacation to San Diego in 1924 in a Model T Ford. Impressed with the area, the Bluchers settled in Lakeside, where Mr. Blucher's father operated the Lakeside General Store.

As a three-sport letter man at Grossmont High School, Mr. Blucher played fullback and first base and threw the discus. He was graduated in 1931.

Four years later, he was earning 50 cents an hour driving a tour bus at the California Pacific Exposition at Balboa Park, where he met Bob Cleator, who became one of his closest friends.
In 1941, Cleator introduced him to a Los Angeles nurse, Mary Adeline McDiarmid, on a blind date. The couple were married in 1942.

Mr. Blucher also drove streetcars and buses for the city of San Diego before joining the San Diego Police Department in June 1937. Starting as a patrol officer, he worked his way up the ranks -- sergeant in 1945, lieutenant in 1948, captain in 1952.

In 1947, Mr. Blucher took part in the investigation of the celebrated Black Dahlia slaying. The mutilated body of Elizabeth Short was found in a vacant Los Angeles lot, but she had spent some of her last hours in San Diego.
The killing, the subject of a television movie in 1975, was never solved, much to the fascination of historians and the frustration of law enforcement officials.

In retirement, Mr. Blucher worked as head of security for boxer Ken Norton, who defeated Muhammad Ali at the San Diego Sports Arena in 1973, and he served on the Salvation Army board of directors.
He volunteered for the transportation committee of the Andy Williams San Diego Open golf tournament at Torrey Pines Golf Course for many years. As a recreational golfer, he once shot a hole-in-one on the fifth tee at San Diego Country Club, said his son, Donald Blucher Jr.
"Dad loved camping and often spent the first week in October with his buddies at such spots in Arizona as the Grand Canyon, the Havasupai Reservation or Oak Creek Canyon," his son said.

After the death of his wife in 1979, Mr. Blucher joined group tours that took him around the world.  "He walked along the Great Wall in China and visited the pyramids in Egypt," his son said.  "The only place he didn't get to was Australia."

He is survived by his son, a Kensington resident.

Promoted to Sergeant 1945

Promoted to Lieutenant 1948

Promoted to Captain 1952

Promoted to Chief of Detectives 1957

Promoted to Assistant Chief 1967

Promoted to Deputy Chief 1968


Information is provided as a courtesy. Additional information may be available if research is conducted. Research is done at a cost of $25 per hour with no assurances of the outcome. For additional information please contact us.