CHIEF WILLIAM T. NEELY

SDPD 09/03/1907 - 04/30/1909

06/03/1860 - 06/10/1945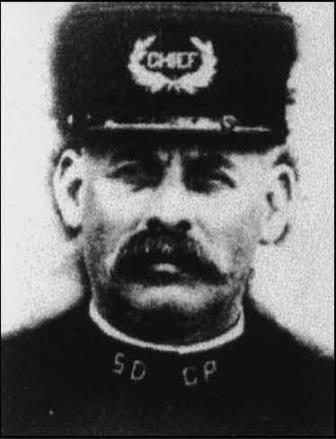 Chief George Moulton's replacement was William Neely, a former Utah lawman who was working as a building contractor when he was chosen for the department's top job in September 1907.
As chief, Neely persuaded the Police Commission to institute the long needed rank of detective. He then turned his attention towards the neglected problems in the Stingaree of gambling and prostitution. Neely went door to door personally notifying all gambling dens and opium houses they were being closed down. He then went and met with several known extortionists in Chinatown and told them to leave town or be arrested.

The sweeps were the first time San Diego law enforcement had actually confronted a problem head on and it caught the criminal element off guard. Past practices had been to simply avoid the problem and hope it would go away. As long as the troublemakers stayed in their own area of town they were left alone.

By 1909 Neely was feeling a change within the city. New council members were being sworn in and were very open in their attempts to exert control over the police department.

While citizens might have cheered an honest cop who was willing to hit the criminal element head on, there were those in city hall who were less than appreciative. As Neely continued to enforce the law there was a fight brewing between him and the council.

The storm on the horizon would cause Neely to do some deep soul searching. He knew he was doing the right thing but was it worth the fight? He had already taken an enormous cut in pay when he accepted the $125.00 per month chiefs job and the hours were long and the conditions rough. The answer to that question would be no.  Added to that was a new mayor being sworn in and, if history was to repeat itself, Neely knew he would most likely be fired. Not wanting to wait for the inevitable, he submitted his resignation and went back to the private sector.