George Sears came from a wealthy family and didn't need the job of a police officer as many of his co-workers did.  Perhaps that's what made him less willing to bow to the political machine. It would be one of his most admirable traits, but in the end, it would lead to his downfall.

Hired as a San Diego police officer on January 27, 1915, Sears worked his way through the ranks, spending most of his time as a detective in the vice squad. By the early 1930's Sears was a lieutenant and his officers spent the majority of their time enforcing liquor laws. Known as the "Dry Squad", the five-officer team led raids on speakeasies and distilleries around the city. The team quickly made names for themselves as they cut into the profits of bootleggers.

On September 7, 1934, Sears was appointed chief and he listed several top items on his agenda. The first was to stay in office. His second agenda item was to get a grip on prostitution.

William Neely and Keno Wilson paved the way for cleaning up the town when they raided the Stingaree years ago but there were still houses of ill repute scattered about the city.  Sears third agenda was to get a new police headquarters to replace the rat infested one his men were now working out of. 
The late retired Lieutenant Bob Karrow later summed up the will of City Hall to stop prostitution during this time period. "I worked vice directly under Sears and he wouldn't put up with the whorehouses in town. Once during an investigation I discovered a brothel was being run by a city councilman. I went to straight to Chief Sears and he took it directly to the District Attorney and demanded it be closed down. The DA refused."
In 1935 Sears ordered the department to change its look. The olive drab green uniforms, worn for almost a full 20 years, were replaced with a dark blue thigh length coat over a white shirt with a black necktie. Dark blue trousers and a military style cap rounded out the uniform. The new look actually made the officers look more like the German military officers than policemen. As sharp as the uniform looked, it would be hard to take credit for it. LAPD officers had been wearing the exact same style uniform since 1930. The new uniform also marked the first time officers wore their sidearm exposed to the public. Previously, only motorcycle officers openly displayed their guns.  The beautiful new uniform made a tremendous impression to visitors to the city but it was not without its detractors. As one retired officer recalled, "That wool coat would be warm in Alaska in the dead of winter. Imagine wearing it on a hot July day." The coat was made an optional dress uniform in the late 1930's as the department adopted a uniform consisting of long-sleeved dark-blue shirt, necktie and dark-blue pants. The hat remained mandatory. By all accounts, the new uniform wasn't much cooler on those hot summer days.

By 1938 Sears was closing in on his goal of establishing a new police headquarters. Funding had been secured for a new station to be built on tidelands in the southwest corner of downtown. As it was designed, the building was to be state of the art and would be large enough for 50 years of service. The $390,000 project was to be supervised by local contractor M.H. Golden with the Federal Work Projects Administration providing some of the labor.
Despite the charter expressly forbidding political influence, 1938 also found Sears battling Mayor Benbough over who would control the police department. The two men, who never got along, found their relationship increasingly strained as Sears resisted allowing the department to be influenced by the Mayor. The fighting eventually cost Sears his job when Benbough finally convinced the City Manager to fire him in late April 1939.
Despite the City Manager being the one who actually told Sears his services would no longer be needed, the public quickly recognized the firing was orchestrated by Benbough. Chief of Detectives Harry Kelly was quickly called in and named interim chief however, through no fault of his own, some saw him as Benbough's man and his days in the top office were numbered.
Scrambling to contain the fallout from the Chiefs firing, Benbough took out a quarter page advertisement in the San Diego Union decrying that George Sears wasn't the right man for the job. It was an odd position considering Sears had already been in office for almost five years.
The fallout didn't last all that long but after less than 70 days in office Harry Kelley was replaced with another interim chief, John "Pete" T. Peterson, a detective lieutenant from the East San Diego substation who had served as interim chief on two previous occasions. To outsiders Peterson was seen as a man close enough to retirement that he didn't owe anyone any favors.
Meanwhile, Sears retired to a family farm in El Cajon on his $90.00 per month salary. He would remain there until his death in 1974.

CHIEF GEORGE M. SEARS (09/07/1934 - 04/27/1939)

SDPD 01/27/1915 - 04/27/1939

06/02/1885 - 03/28/1974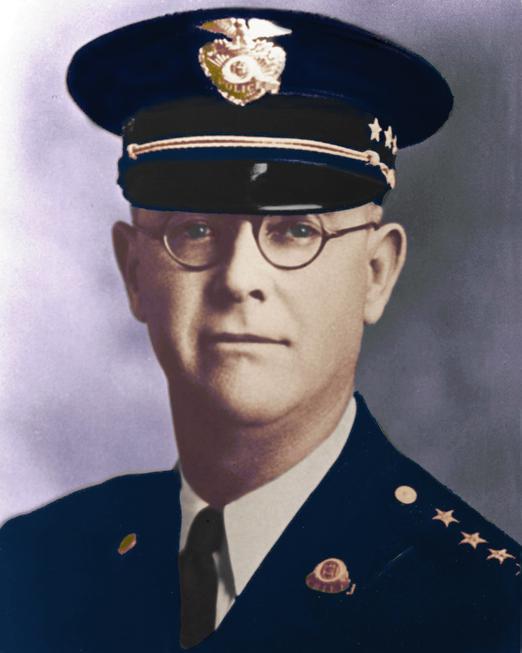 Information is provided as a courtesy. Additional information may be available if research is conducted. Research is done at a cost of $25 per hour with no assurances of the outcome. For additional information please contact us.