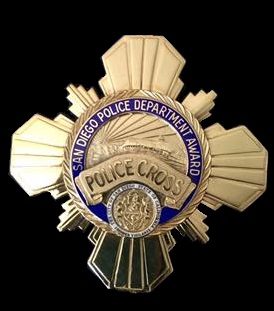 MERITORIOUS SERVICE

Awarded to an employee who displays exceptional dedication to duty in pursuit of a worthwhile objective, which required courage and is knowingly done with risk of injury.

RECIPIENTS

Officer David Armbruster

Officer Ali A. Bakhshi

Officer R. David Bejarano

Officer Aziz H. Brough

Sergeant Allan C. Butchart

Sergeant Kelly J. Copeland Jr.

Officer Chad Crenshaw

Officer Bradley D. Elow

Officer Buddy Johnson

Officer Kenneth Impellizeri

Detective Howard A. LaBore

Agent Phillip A. Martz Jr.

Officer Joel McMurrin

Officer Thomas K. O'Connell

Officer Jacob E. Palecheck

Officer Filip Perry

Officer Dan R. Plein

Officer Mark Roode

Officer Brian Sanders

Officer Jerrad Schnautz

Officer Willis E. Short III

Detective Amalia K. Sidhu

Sergeant Steven B. Spurlock

Officer Cesar Solis

Officer Kelly S. Stewart

CSO Vickey Workman

EXCEPTIONAL PERFORMANCE

Awarded to an employee for courageous, outstanding, or unusual performance of duty that is significantly beyond that normally expected and may be based on a single act or on exemplary work over an extended period of time.

RECIPIENTS

Officer Larry A. Adair

Analyst Diana M. Alesi

Detective Vincent J. Bales

Officer Sean A. Bannan

Detective Tracy Barr

Detective Jana M. Beard

Officer Brian Bernard

Sergeant Stacee Botsford

Detective Daniel A. Burow

Detective Sergeant Christian Cameron

Officer Nicholas C. Casciola

Detective Rudy Castro

Officer Rex Cole Jr.

Officer Eric W. Cooper

Officer Kenneth Davis

Detective Michael Day

Officer Ronald Featherly

Detective Natalie F. Fortier

Officer Brian Frias

Officer Kurt Grube (2)

Officer Christopher Harrison

Detective Christopher Haughy

Officer Bernice Herrera

Detective John Howard

Officer Evan P. Hughes

Detective Luke T. Johnson

Detective Howard LaBore (4)

Detective Christopher Leahy

Detective Jim Mackay

Officer David McGowan

Officer Lauren C. Milburn

Officer Michael Padgett

Sergeant Jacob M. Resch

Detective Susan M. Righthouse

Sergeant Steven B. Spurlock

Officer Larry E. Turner

Detective Deannna Warrick

Detective Michael Weaver

Officer Ryan C. Welch

Officer Phanomsack Woodell

Officer Matthew T. Zdunich

Awarded when an employee, while in the line of duty, sustains a serious wound or great bodily injury inflicted by a hostile person. The Purple Heart may be awarded in conjunction with the Medal for Valor, Meritorious Service Award and Lifesaving Medal. These medals may be awarded posthumously.

RECIPIENTS

Officer Timothy J. Bell

Officer Dannie L. Bihum

Officer Wade Irwin

Officer Donald S. Meeks

Officer Patrick Miller

Officer Francisco Roman Jr.

Officer Heather Seddon

Officer Jeffrey D. Swett

Officer Mitchell Vitug

SDPD Medal for Valor recipients are members of the Police Museum Hall of Fame. Click the banner to visit the hall.


In recognition of service to the community, the San Diego Police Department has

established a series of awards.  The listed ranks reflect the status of the

member at the time of the award/incident.